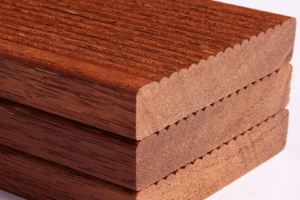 In our Prefab Timber House projects at Teak Bali, we primarily use 3 types of woods which are known for their strength and durability, Teak, Merbau & Bangkirai. Because we send our prefab timber homes all over the world, Teak Bali only works with hardwoods which stand up to the elements in any environment. Beyond the visual appeal and uniqueness of the Teak, Merbau and Bangkirai timbers, the reason Teak Bali is attracted to these hardwoods is for their durability to use for Prefab Timber Homes. In their natural state, all of these hardwoods are highly resistant to rot and insect attack. This is simply not the case with common conventional woods (Pine and Douglas Fir) normally used in domestic construction projects. For further info on Merbau and Bangkirai's natural resistance to Termites, please reference a study commissioned by the University of Hawaii here: UH Termite Study. All 3 hardwoods have high load bearing strength and durability, are hard and heavy with high shock resistance which is perfect for use in structural building projects. Merbau and Bangkirai are both ideal timbers to use for Prefab Timber Houses in hurricane territory as well when applied in a Post and Beam building style. Merbau and Bangkirai are an excellent choice for people who wish to use non-conventional building materials. The versatility of both timbers, works well with any landscape, making it one of the most popular choices for creating Luxury Prefab Timber homes.
Merbau
Merbau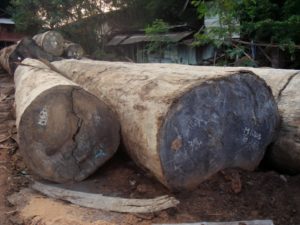 grows mostly in South East Asia, Papua New Guinea and the Pacific islands. With its high degree of natural durability and strength it is used externally in engineering, construction as well marine applications. Merbau is not only used for Merbau Hardwood homes but also features in backyards as outdoor furniture, and internally in a range of joinery, flooring and other uses. The color of the heartwood, when cut, is a deep ginger, bending towards orange on the brown scale. As it ages, the orange undertones give way to more ruddy qualities that fits perfectly with Teak Bali's Merbau Hardwood houses. One feature of the color that separates this wood visually is the reflection of golden flecks woven through the grain. These are the result of mineral deposits, unique only to Merbau. What you will see however is the course texture of the wood whose grain ranges from straight to interlocked textures. The combination of orange to red-toned browns, permeated with mineral deposits in the grain, will really separate the look and value of your Merbau Hardwood Home from any other building materials available on the market.  Merbau seasons well with kiln or air-drying, exhibiting only a low degrade and very little shrinkage or movement. For detailed info on Merbau Hardwood House specifications and characteristics, link through to a  USDA Fact Sheet and a CIRAD Fact Sheet.
Usages for Merbau on Teak Bali projects
Bangkirai
B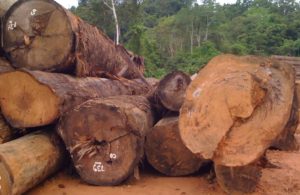 angkirai grows in south-east Asia, on the north-west Malaysian archipelago, especially in Sulawesi (the former Celebes) and Kalimantan, as well as in India, Pakistan, Sri Lanka, Myanmar, Thailand, Laos, Vietnam, Cambodia and in the Philippines. Bangkirai (also known as "Yellow Balau") has a high strength and durability factor, is hard and heavy with high stiffness and shock resistance. Bangkirai is mainly used for heavy duty structures such as for bridges, railway sleepers, floors and for post and beam Bangkirai  houses. A growing market for this wood is being found in terrace and patio floorings as well garden furniture. The color of Bangkirai is a wheat-brown, a color it retains after being cut. The surface of Bangkirai alternates from smooth to rough textures due to the interlocked nature of the grain. However, there are strong variations in color which is well suited as decking material. When exposed to the elements, Bangkirai, like many other tropical timbers, greys very quickly.Bangkirai wood have the same resistance against termites and seasons as Merbau if we want to use it as the construction material of bangkirai homes). (This wood is also an ideal non-conventional material to use to build a Bangkirai  House) For detailed info on Bangkirai home specifications and characteristics, link through to a  USDA fact sheet and also a CIRAD Fact Sheet.
Usages for Bangkirai on Teak Bali projects:
Teak
T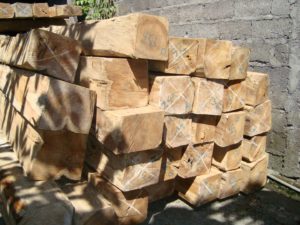 eak wood was first used in the 17th century and became the most widely used wood species in the shipbuilding industry. Teak is very suitable to use in humid environments, as teak is resistant to mold and wood rot. The color and appearance of Teak tends to be a golden or medium brown with a straight grain. Teak wood originates originally from Southeast Asia, mainly from mainly India, Sri Lanka, Indonesia, Malaysia, Thailand, Myanmar and Bangladesh. Currently, Teak has become widely popular in the use as a High End Flooring product and has also become quite popular in the fabrication of Hardwood Garden Furniture. Hardwood floors made from Teak will last for decades.  For detailed info on Teak Wood specifications and characteristics, link through to a  USDA fact sheet and s a CIRAD Fact Sheet.
Usages for Teak on Teak Bali projects:
When it comes to fabricating Prefab timber homes, Teak Bali spares no expense. As part of our operation is based in Indonesia, we exercised to total control over the entire Production Life Cycle. This means hands-on quality control of the highest standards are maintained over every facet of the ordering/manufacturing and packaging process down to the final loading of the goods onto the shipping vessel. For our high quality fabrication protocols, we collect the best tropical hardwoods at-source from legal logging concessions and Teak Bali maintains stringent grading systems of the final items chosen for our Teak Bali Luxury Prefab hardwood projects. One of Teak Bali's central benefits is the durability of our materials as well as our High Quality Fabrication Techniques. Hardwoods utilized by TEAK BALI, if treated right, will outlive our clients and their families.