Teak Bali hardwood homes are  not only popular because of their unique look and feel but more importantly, our Hurricane Resistant Homes are built to withstand the elements. Teak Bali has fabricated several multi-structure projects in the Caribbean region which have all weathered severe hurricane conditions. The primary concern during these powerful weather events relates to damage incurred from high wind speeds and projectiles (Uprooted trees etc.) but there are also secondary concerns relating to water ingress and life-threatening ocean surges. Our CA01 Project took a direct hit from Hurricane Matthew in 2016 with all four structures experiencing continuous wind speeds of 138mph over a 12 hour period without sustaining any damage.
Why the need for Hurricane Resistant Homes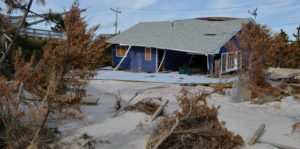 2017 was an extremely devastating year for a number of Islands in Hurricane alley. In 2017 alone, the Caribbean archipelago experienced four hurricanes of at least Category 4 intensity. Some of the countries that experienced the most damage during this Hurricane season included Anguilla, Barbados, Barbuda, Puerto Rico, St Kitts and Nevis, St Martin, St Barts, Turks & Caicos, the Virgin Islands and the Florida Keys. One of the most frequently asked questions from Teak Bali clients is "Are our Tropical Hardwood homes safe, strong and can they withstand a hurricane?" And the answer is YES!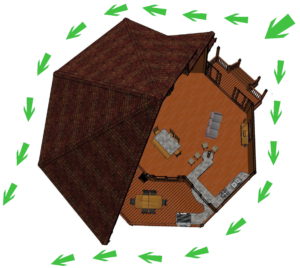 For our clients who are based in the Caribbean Region, we engineer our structures to comply with Miami/Dade building codes which allow for wind speeds as high as 175 mph. Our Hawaii based projects must comply with Hawaii code that protects against 125 mph wind speeds. We engage a structural engineering firm who understands the strength characteristics of our Hardwoods. They are licensed in all 50 states of America and where necessary, can stamp the submittal plans to your local building department. Our Hurricane Resistant Houses are designed with strict consideration regarding fortification against hurricane force winds and earthquakes. Teak Bali recommends clients consider eight sided structures as this shape provides a distinct advantage over traditional four sides structure. With no perpendicular angles, strong winds will deflect around the structure where a four-sided structure can be broadsided by strong lateral loads. The owner of the CA-01 project insisted on designing with eight sides just for this reason. He took our Babaji model, stripped out the interior walls and added an eight foot wrap around deck to fulfill his personal tastes.  
Our Hurricane Resistant Homes utilize the following safety measures:
Structural Techniques:


Because of the strength, integrity and flexibility of the post and beam building system, and the favorable strength characteristics of Merbau and Bangkirai hardwoods, Teak Bali timber frame homes can withstand hurricane force winds, heavy snow accumulations, and even earthquakes, making our Hurricane Resistant Houses one of the most durable building brands on the planet. Teak Bali provides only the highest quality structural framing materials. We implement over-sized hardwood members, double-bearer floor structures and header beams with attached top plates. The wall structures of our timber homes are comprised of hardwoods with tight stud placement utilizing metal strapping and/or ply underlay to handle strong lateral loads. Wherever possible, our designers and fabricators avoid utilizing wood joins in mid span to further enhance the strength of our tropical hardwood houses.

Doors and Window Systems:


Our Doors and Windows are made from solid hardwood utilizing a unique joint connection system to withstand 175 MPH wind speeds. Miami Dade code requires that we use 13mm laminated tempered glass. This glass is not only safe against big wind forces but can endure severe impacts in the unlikely event that trees are uprooted. We can also provide Miami Dade approved hardware and our Door Window systems are designed to stop water ingress in the event where the structures may experience prolonged lateral rain conditions during a big wind event.

Hurricane shutters:


Hurricane shutters are used to protect our houses from damage caused by storms and prevent windows from being damaged in the event the houses experience flying objects during a storm. Teak Bali can design and fabricate hardwood hurricane shutters to match your hardwood home.  Our CA-01 project specified creating a hinged hurricane shutter system with a plywood interior and hardwood frame. The client leaves his shutters open all year except in the event of a Hurricane.

Hurricane Clips:


Our engineers specify hardware throughout the structure to further strengthen the houses in the event of big winds. One of the major concerns when a structure is experiencing strong and sustained lateral loads is uplift. So, the system utilized  to secure the roof structure to the main structure is integral when engineering against hurricane conditions. Our engineers also specify the use of Simpson H2.5 clips to secure the floor joists to the floor bearers.
​
Hurricane Resistant Homes vs Hurricane Proof Homes
In the event that you structure experiences extreme hurricane conditions , it is probable that no structure can go un-scathed.  There is no house fabricator on the planet that can guarantee they are manufacturing 100% Hurricane Proof Homes. At Teak Bali, we can reassure you with the strength characteristics of our Hardwoods combined with our advanced engineering protocols and stringent structural building techniques, we fabricate some of the most durable Hurricane Resistant Homes on the Green planet. Please feel free to contact one of our specialists today to discuss how we can design and fabricate one or more of our long lasting Hardwood Homes for your project.