When planning a new home, owners have a wide choice of building materials and design options. Why then, do many choose prefab homes made with Tropical Hardwood Timbers over other construction materials?
Aesthetically Magnificent
A Tropical Hardwood Timber home is a beautiful display of wood aesthetic on a magnificent scale. Wood can create the expansive feeling of the outdoors in an open-design interior space. High cathedral style ceilings mixed with exposed timber beams creates an organic warmth and character. Taking advantage of the Post and Beam building method united with the strength characteristics of the Tropical Hardwoods, this combination offers the distinct option of creating large 'Great Room' spaces to allow for that expansive feel. Teak Bali creates inspired designs that are more distinctive than structures using conventional Dry Wall sheeted lumber framing or synthesized cement and steel. Timber also smells great, looks wonderful, ages beautifully, feels nice and has a positive effect on all our senses, it is of the earth.
Fast Assembly
When Teak Bali pre-build's a Hardwood timber home on the Island of Bali, the entire structural entity and interior elements are pre-cut and the pieces are tooled and all fully connected, then knocked down again, packed and shipped to your building site. While the home is prefabricated in Indonesia the re-assembler in the country of destination can prepare the foundation element. When the container(s) arrive, the structural entity can be erected within 2-3 weeks maximum.
Incredibly Durable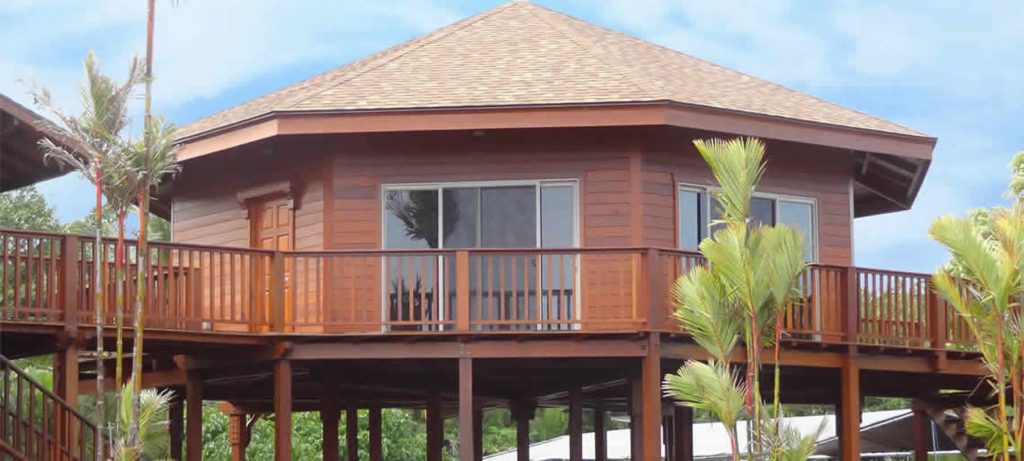 The large timbers used in building the exposed skeletal frame mean that your new home is much stronger and will last many times longer than any ordinary house. The world's oldest wooden structures were built using the same construction principals. The still-standing ancient timber Horyu Buddhist temple in Japan was built in the seventh century. Many wooden temples standing in Durbar square in Kathmandu were built 100's of years ago. Prefab tropical timber homes are ideal for earthquake prone areas since the timber frames are flexible and can withstand a lot of movement and vibration without causing physical damage. One of the finest characteristics of the tropical hardwoods used by Teak Bali (Merbau, Bangkirai & Teak) are termite proof which is a BIG plus when building in the termite territory.
Environmentally Friendly & Sustainable
Trees are of the earth and can be replanted to the earth. Teak Bali has initiated a reforestation program to replace what we have borrowed from mother earth. As we mentioned in our First Blog Article, woods is the most sustainable building material compared to steel, concrete and sheet rock production. When living in a wooden house fabricated by Teak Bali, you are living with a building material that is of the earth, harmonious with the earth and being given back to the earth.