This spectacular Teak Bali Timber Home project is based on the Hamakua Coast outside of Waimea on the Big Island of Hawaii. We are told that the Hawaiian translation for the Work Hamakua is "The Breath of God". And this particular coast on the North East side of the Big Island is truly graced by sometimes gentle and sometimes strong sea breezes. Hamakua can be enveloped in phenomenal sunshine but the abundance of green on this coast also hints to the serious amount of rainfall that falls on Hamakua. Rainbows abound as do whales during the winter season.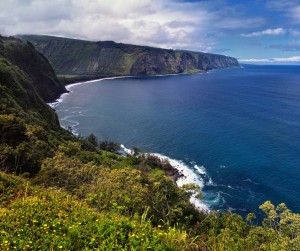 Our clients (A lovely couple originally from Oregon) were graced with this spectacular piece of property through a simple twist of fate. It is one of the most beautiful properties the Teak Bali team has ever witnessed. Overlooking the Waipio Valley, the high cliffs off the Kohala Forest reserve and on to the Island of Maui (on a clear day), the panorama featured from this property is nothing short of breathtaking.  Our first visit to the property was during rain season and I personally witnessed 9 active waterfalls spilling into the Pacific Ocean as I looked up the coast. It was a true gift to just visit this wonderful part of the Big Island and Teak Bali is truly grateful to have been invited to participate in such a wonderful project.
In the Hawaiian language, the word Mana means the "Divine Power" or spiritual energy of any living thing.  Surrounded by serious unimproved private acreage as well as public lands, our clients were real keen to respect the 'mana' of the land, they did not want to harm this land in anyway. They sat with the land well over 5 years before beginning to make a plan how to actually design hardwood structures that would do this land justice. Please keep an eye out for episode 2 where we begin to discuss the intentional process that went into the design phase of this top-shelf Hawaii based Hardwood Home  project. For more Blog articles and information on the project, please click here: 'Hwaaii Project A'.