Our client had a crystal clear vision to have an organic living arrangement on his private Island paradise. He wanted completely sustainable Caribbean Hardwood Homes  designed leaving as small a footprint as possible on his 1km long ecologically sensitive island paradise. He wanted to avoid the garish American-style look prevalent in Palm Beach, opting for an eco-friendly hexagonal Caribbean Wooden homes with few modern conveniences.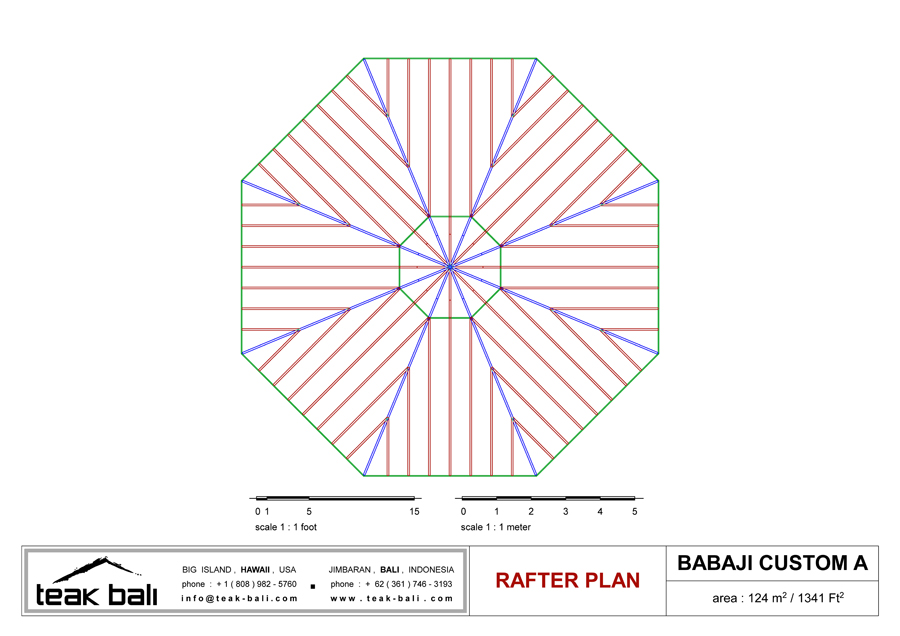 The two Caribbean Prefab Homes were to be equipped with compost toilets operated by hand pump and there were no televisions or fridges. Solar energy will provide a small amount of power for lighting and a computer. "I will not be having a generator on the island," the client stated, "At night when it gets dark you go to bed and when it gets light you get up." He also plans to grow his own food on the island and to catch fish too with the idea of sourcing most of what he eats from the island itself. "I won't be eating much steak, that's for sure."
Teak Bali was tasked with the idea of creating Caribbean Timber houses with no windows, just mosquito nets and solid wooden shutters to minimize any damage in the event of a hurricane. The client took our 8 sided Babaji model and stripped out all the interior walls and added an 8 foot wrap-around deck. He added a cap on top to permit the structure to breathe in the heat of the day, being cognizant of the fact there will be no air-conditioning units in the structures. This was his "A" structure. Then the client tasked us with making a larger structure (The 'B' Model) with the same dimensions and feel that will have a kitchen unit inside with a serving counter to the outside deck area. He requested we keep a real low profile on all the structures keeping in mind his little Island paradise is smack in the middle of Hurricane alley. Part of the idea of having octagonal structures is that they can handle the big winds much better than a 4 sided structure which can get broad sided by the big winds.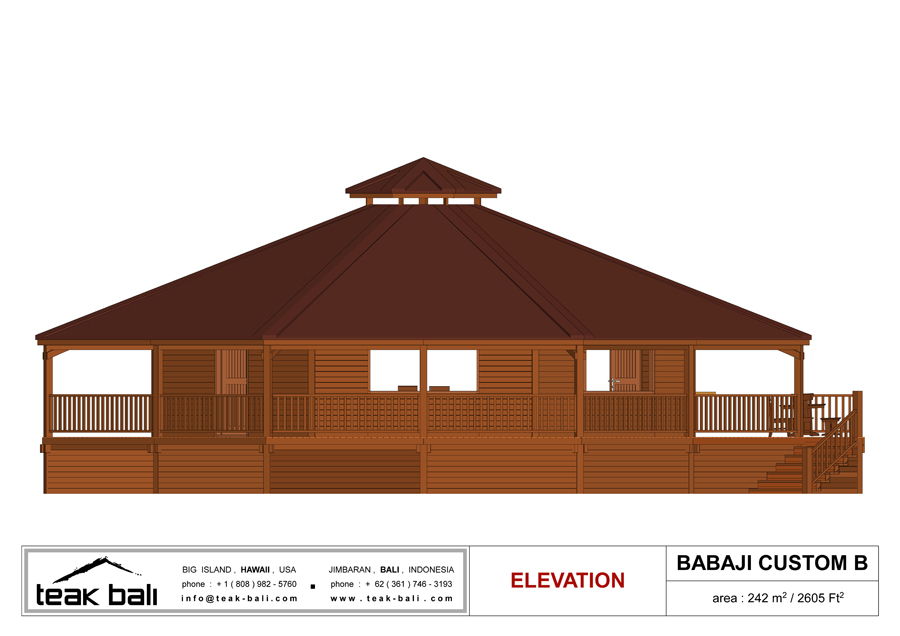 For phase 1 of the project, the client ordered 2 'A' Structures and 1 'B' structure to be delivered at one time. During this part of the design process, Teak Bali needed to determine the container counts up front so the client knew what he would be getting and when. In the end, Teak Bali's logistics team determined the most affordable way to ship this phase of the project was in 3 staggered shipments totaling five 20 foot containers and one 40 container. The client also ordered a bunch of Teak Hardwood furniture from Bali to complement the structures.
In our next blog we will investigate the pre-assembly portion of the project in Teak Bali's warehouse. For more Blog articles and information on this Caribbean Prefab House  project, please click here: 'Caribbean Project A'…..