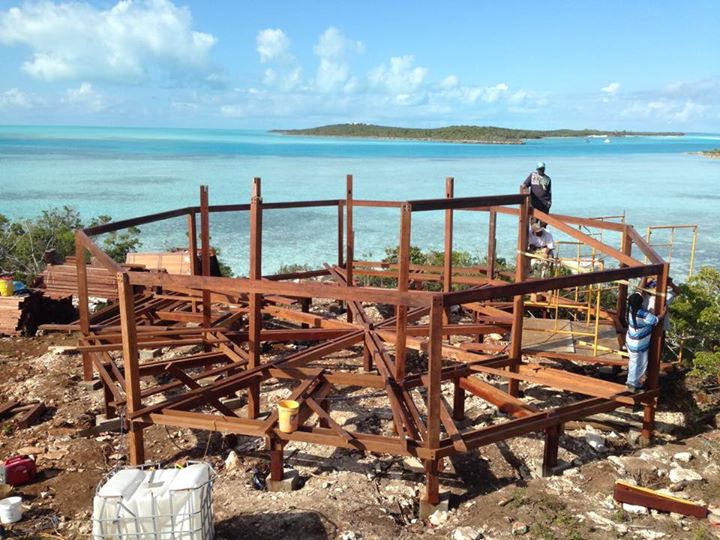 For this Caribbean sustainable house our client chose to build an octangonal structure on his beautiful privately owned cay in the Bahamas. This shape of structure by design is extremely resistant against lateral loads, which are the wind speeds a building can bear during hurricane force winds. This type of hardwood structure helps to deflect a direct hit. For a percentage of our Caribbean projects, we base off Miami/Dade building codes which allow for wind speeds of up to 175mph, which is categorised as hurricane scale 5. Not all parts of the Caribbean require Miami/Dade standards and our structural Engineers can review plans on a case by case basis.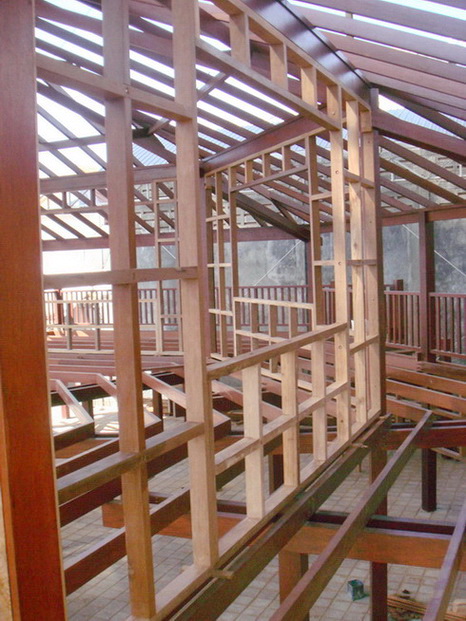 Using the post and beam building method, Teak Bali implements over-sized hardwood members. For this specific project, the client requested we run wall structures and wall siding below floor level all the way to the ground to help protect against lift loads. Our wall structures are comprised of hardwoods with tight stud placement (wall framing members) which are placed on either 16″ or 24″ centers. This means from the exact center of one stud to the exact center of the adjacent stud is 16 or 24 inches. 24 oc offers very good stability and if the clients elect to use double skin hardwood siding, this further strengthens the wall structures.
Teak Bali sometimes utilizes metal strapping and/or ply underlay beneath the external hardwood siding layer for extra insurance against any strong lateral loads.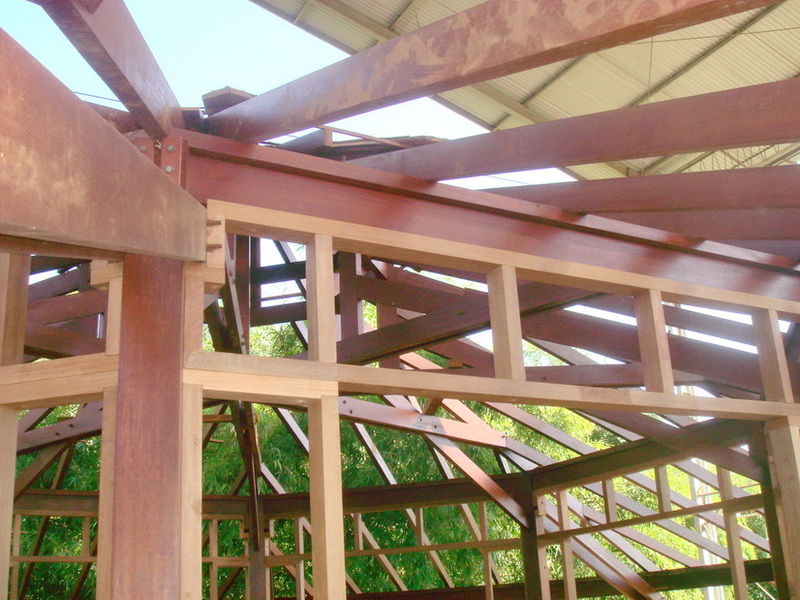 Double Skin walls were used in the design of this hardwood structure. Using the double skin facade system has many benefits. The exterior wall skin protects building from harsh weather conditions, such as strong winds and hurricanes and the interior skin walls give thermal insulation and prevents overheating in hot weather conditions. Some clients choose to use drywall instead of our hardwoods on the interior of the walls to lighten up that space.  This concept uses the buildings opaque double facade design acting as a buffer zone, keeping with the clients vision and requirement of creating a home which was as environmentally and ecologically friendly as possible.
For all the Blog articles relating to this Caribbean Wooden House project, please click here: 'Caribbean Project A'.