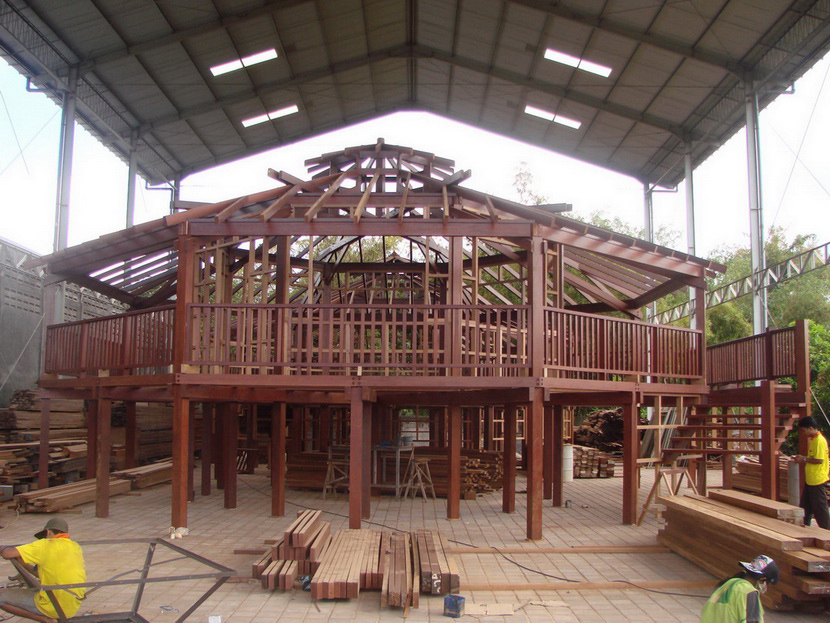 For this Caribbean Hardwood Home project, we had to keep in mind we were going to be building smack down the middle of "Hurricane Alley" in the Bahamas. Our client requested we build the structures as strong as a "Brick Sh*t house" to quote his exact words. The fact that we were fabricating 8-sided Hardwood structures was beneficial compared to standard 4-sided structures which can be broad sided when a hurricane blows through. The reason he originally came to Teak Bali is because of our reputation for specializing  in fabricating Prefab Homes to withstand the big winds. Our 2 primary markets are Hawaii and the Caribbean and the various Building departments in these 2 regions can be quite strict.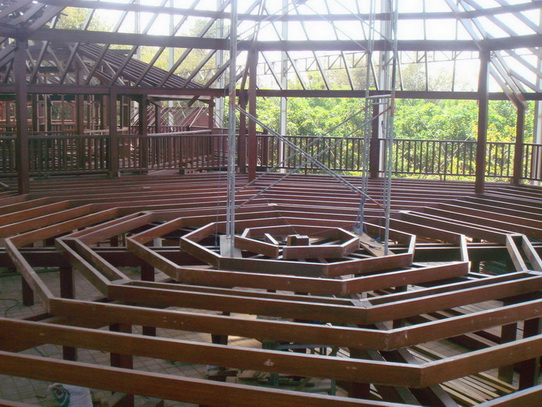 Regarding fortification against Hurricanes and Typhoons, following are some of the standard building protocols we adhere to and please reference our Construction Protocols page to see more detail on this subject:
Post and Beam building method
Double floor bearer systems
Use of oversize bearers at 80 x 180 (3″ x 8″)
Use of headers with attached top plates
Wherever possible, we avoid making wood joins at mid-span.
Our wall structures are comprised of hardwoods with tight stud placement utilizing metal strapping and/or ply underlay to handle strong lateral loads.
We use a ply sub-floor below our 1" thick hardwood flooring element, we run the ply under the wall structures.
For this specific project, the client requested we run wall structures and wall siding below floor level all the way to the ground to help protect against lift loads.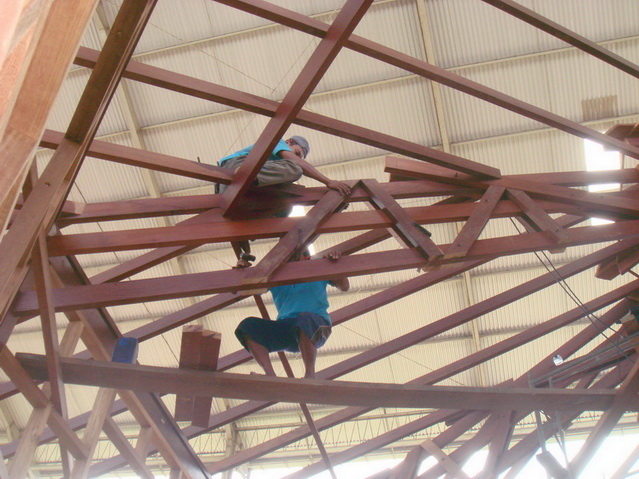 Our client's design vision was clear, there were to be no windows, just mosquito screens with Hardwood hurricane shutters in the event the big winds did come along. To see the actual designs of his structures, please reference our Design Blog for this project. The larger 'B' structure has a large center span and since we had no center post support, we were required to utilize a truss system running along the main rafter grids from the perimeter posts to the Queen posts supporting the center cap. Our head carpenter is a whiz when it comes to fabricating our Bali Style designs. He pre-cuts all members of our structures before the assembly so he really needs to hit it right. As we were building octagonal structures we needed to employ the Pythagorean Theorem to lay out the post plan prior to assembly.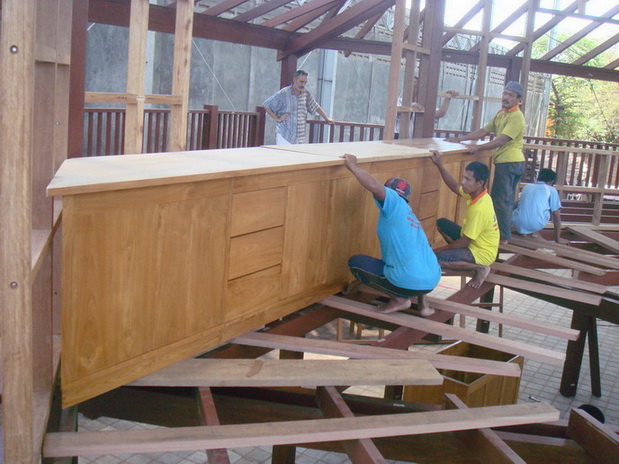 The large solid Teak kitchen Unit and Teak kitchen Island were manufactured concurrently at our furniture manufacturing facility whilst the structures were being fabricated at our main operations warehouse.  Upon completion, the kitchen unit was then fitted to the actual 'B' Structure before knockdown. As per instructions from the client, Teak Bali was instructed to ship all 3 structures at the same time. Our Logistics Team decided it was more prudent to leave all the structures standing until we prepared for the actual shipment. For more information on this Caribbean Hardwood Home project, please click on the 'Caribbean Project A' link below.  Please stay tuned for our next Blog on this project where we discuss the logistics of getting the Knockdown houses from Bali to the clients Privately Owned Cay in the Bahamas. For more Blog articles and information on this Caribbean Prefab House  project, please click here: 'Caribbean Project A'…..